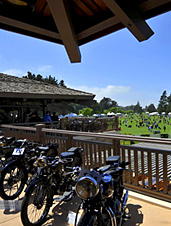 There's no reason to ignore the lure of the open road.
Especially when a batch of fresh motorcycles is involved...
Introducing the
Quail Motorcycle Gathering
, a gigantic lineup of classic sports, racing and not-yet-released bikes for your browsing and driving pleasure, next weekend at Quail Lodge.
You're going to want to ease into this weekend with a little perusal: Steve McQueen's 1914 Indian, a 1937 Harley-Davidson (known as the Knucklehead), the unveiling of a hand-built bike called the Kestrel Falcon. And then maybe a couple of stogies in the cigar lounge.
But all of that is just prelude to your ride. If you didn't bring your own bike, they'll be demoing a bunch of two-wheelers—including some 2011 Ducatis—that you can take for a spin on the winding back roads of Carmel Valley. And if they ask what took you so long to bring it back, just tell them you needed a little more fresh air.
If you're looking for even more... bikeness, then ride out a day early and opt for the daylong Motorcycle Tour on Friday, where you and 49 others will go for 100 miles along the Monterey coastline and back, followed by track laps at the Laguna Seca Raceway and a five-course dinner back at Quail Lodge.
We're starting to see a pattern.