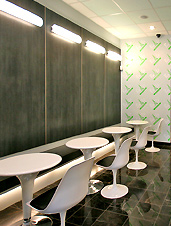 A great work of art stands the test of time, no matter what. But even a masterpiece deserves a suitable frame. Something gilded. Ornate. Special.
And when that masterpiece is your lunch...
Welcome to the all-new
Ba Le
, the reincarnation of the sturdy sandwich institution, now ready to satisfy your French-Vietnamese cravings in a shiny building in Uptown.
Since we know you're a connoisseur of fine sandwiches, we assume you have already experienced the artistry that goes into their
banh mi
, the classic Vietnamese sandwich. Those crusty, baked-from-scratch baguettes. The house-ground pâté. The tangy pickles. The glory of pork meatballs, barbecue pork, ham and other porcine splendors made in Ba Le's own North Side kitchens.
But now that it has left the low-slung building that's been its home for the past 20 years, the setting is less quirky coffee shop, and more big-city industrial mod. (And they only moved next door.)
The basic premise has stayed the same. You'll still line up at the counter for your Vietnamese pork and honey sausage sandwich, but you may find yourself actually sticking around to eat thanks to the space-age seating and alluring photomurals of women who seem enchanted by long baguettes.
Dr. Freud, your sandwich is ready.