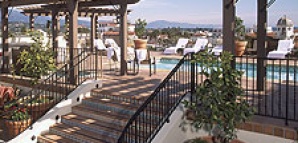 Holiday shopping would be so much easier if it always involved cocktails, massages and your own personal elf.

Which is why you might be interested in a two-night getaway with the "Pampered Elf" package at Santa Barbara's Hotel Andalucia. The idea is to get all your buying done with ease, removed from the exhaustion of the traffic, crowds and been-there-bought-that feeling inherent in another Los Angeles spree.

First you'll check into your homey Spanish suite at the Andalucia, and perhaps hit a winery or three. You'll awaken the next morning for breakfast—and a quick revision of your list of who's nice, who's naughty and who's especially naughty—before powering through the relatively peaceful stores of downtown Santa Barbara. (It's like a mellow version of The Grove but without the dancing fountain.)

Once you return from the shops, the worst is over. You now have a signature massage to enjoy and a couple free cocktails at the rooftop pool bar to imbibe (rewards for a job well done). But before you do, that elf will abscond with the bags to wrap each and every gift inside—then ship the whole lot home for you.

Which leaves you time to consider finding full-time elf support back in the city.