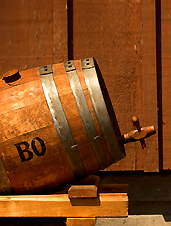 So long as you're the one doing the drinking, you've always been content to let others handle the making.
And that, frankly, is as it should be. Except for those times when you wish your glass had a little more smoke. A little more bite. And, if it could be arranged, just a tangy hint of mustard.
Which brings us to
Whisk(e)y Your Way
, a radical new whiskey-customization service (you read that right), open now for your distilling pleasure.
As you probably guessed, this experiment comes your way out of Oregon, but you can complete the process online. The whole thing starts with, basically, Whiskey 101—a refresher course in the basics (scotch versus bourbon, what ingredients give you what flavor) that can be done in person or over the Web. Next comes a blind taste test to help you decide which whiskey you like best. Finally, you're ready to ferment and distill your potion—a seven-day process that's probably the best reason to visit Portland you'll ever have.
You'll start with a 15-gallon barrel of the raw stuff. They'll age it over three to six years (your call), or you can have them ship it to you to age in your own barrel at home. (Your basement was built for bootlegging.)
The end result: about a hundred 750-mL bottles of your own personal hooch, ready to be doled out to your closest friends, clients and paying customers. All you have to do is think of a clever name, and they'll custom print your label.
Sadly, Johnnie Walker's already taken.