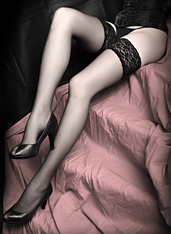 Certain things get you going on Monday.
A strong cafecito, the promise of a martini-soaked lunch and breaking out that shiny new stapler.
Allow us to add one more to the list:
La Boudoir
, your new treasure trove of vintage and vintage-looking underthings, now open on Biscayne Boulevard.
The boutique is located one floor above Uva 69 lounge, so you'll want to start off with a cocktail before escorting your would-be Dita Von Teese upstairs. (The place is actually stocked with all kinds of thrift-store goods like cowboy shirts, old hats and leather jackets, but for now we think you should focus on the lingerie.)
Stepping inside, you'll browse what feels like the spacious walk-in closet of a 1920s sex symbol—there's everything from pre-owned corsetry (which has been thoroughly cleaned and de-funked, so don't worry) to new designs from the owner like flapper nighties and Victorian-esque bras and panties (it's so hard to find a good flapper nightie).
Once you've plucked your favorites, your lady friend can try them on in the curtained-off fitting room (it's big enough for two, so private fashion shows are a strong possibility).
And in case you don't find anything that feels like your exact brand of sexy, the owner is happy to custom-make any item you'd like.
Which is good news for your seersucker babydoll concept.
Note:
La Boudoir, now open, 305-775-8127<br /> <br /> <strong>PARTY ALERT:</strong> Grand-opening party on Saturday, May 8, from 7pm-midnight, with gratis cocktails, burlesque dancers and, of course, contortionists.