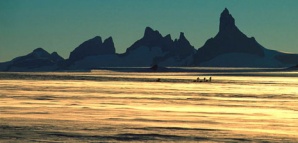 Antarctica, ice queen that she is, has never given travelers a warm welcome—long home to only scientists, researchers and penguins, the virgin landscape has gone unseen by all but the most intrepid explorers.

Until now.

This month, travel company White Desert opens Antarctica's first luxury camp—your only access to the world's final frontier. Near the unexplored mountains of Dronning Maud Land, the zero-impact camp, set atop a 150-foot ice cliff, features solar-powered heating (well-suited to the 24-hour summer sunlight), private domed tents and cuisine from an award-winning chef (no matter how far you go, your culinary standards follow).

After your custom-built IL-76 jet lands on the blue-ice runway, White Desert's aim is to help you do "as much or as little" as you like—and they take each part seriously. Each ten-day expedition is led by guides like world-record Pole trekker Paul Landry, so you'll be in expert hands as you're kite-skiing, ice-caving and scaling the "Wolf's Fang" peak. The less adrenaline-inclined can take scenic flights in the private DC-3 turbo-prop, spend the night in an igloo or stop by the penguin colonies.

Just so you can get to know the natives.