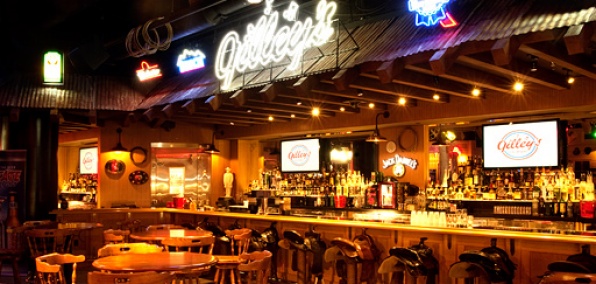 The streets are talking.

They're saying something about an Old Vegas cowboy bar rising from the dead. And we're here to tell you: the rumors are true.

Even the ones—make that especially the ones—about bikini-clad bull riders...

Introducing the reincarnated Gilley's, a freshly scrubbed update of the wildest cowboy saloon this town has ever seen, open now.

It's where Bugsy Siegel and Buffalo Bill would meet up if they needed to get away from the tables for a little while, a time capsule of the city's Wild West days pulled gloriously into the modern age. So a few 19th-century touches—like frontier-style wood-plank walls and an in-house "trading post" selling cowboy hats and belt buckles, in case you've somehow made it this far without them—exist alongside New Vegas amenities like an on-Strip patio and Grand Buffet-quantities of barbecue. So when you're done line dancing (which should happen almost immediately), you can grab some pork ribs, feel the breeze from the boulevard and quietly summon your inner cowherd. (His name is Bud.)

Once you're done eating (and you've gotten a start on drinking), you may notice a mechanical bull calling to you from the corner. Fortunately for spectators, they've preserved the most important tradition of all: the Sunday Bikini Bull Ride, in which appropriately attired women test their skills against the terrific beast for the benefit of the viewing public.

The dress code is strictly enforced.