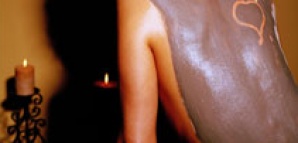 You owe her a romantic getaway, but couples massages have become as passé as chocolates and red roses.

So you might want to consider a weekend getaway for a Pittura Festa treatment, wherein you both will pick up some paintbrushes...and paint each other.

In your private outdoor cabana (which can holdup to four if you're feeling really adventurous), a therapist will introduce you to the different muds and clays you're about to artfully slather upon one another. Each is good for the skin in its own way—the green contains mineralizing algae, the red Sedona clay is high in iron—which only enhances the artistry of your imminent masterpiece.

Once the Picasso-ing is complete, you'll be wrapped up to bake privately in the sun, before your therapist re-emerges to give you both scalp massages. Then comes the outdoor Swiss shower—it's a walled-in extension of your cabana—where you get to un-paint each other in peace. And after that, if you like, you can add additional treatments like a full-body massage.

All this resort-sanctioned debauchery takes place at The Well Spa within Miramonte Resort, a desert oasis whose high season has just begun—summer is actually off-season when it's 120 degrees outside.

Still, it's kind of hot.