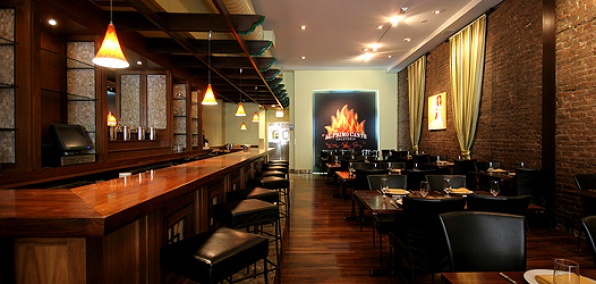 You've heard great stories of when the Brazilians first invaded Chicago. The music. The funny gaucho pants. The skewers of meat on every corner of River North.

Things were pretty good. (The cachaça helped, of course.)

But times have changed. Concepts have evolved. Tourists got wise to your best tables.

So we think it's time to get back to Brazilian basics: nonstop heaving platters of the most succulent meat north of Curitiba. Welcome to Al Primo Canto Galeteria, opening tonight in the former Le Lan space.

You may have already heard about Al Primo Canto's particular brand of deliciousness. There's one in Edgebrook, a neighborhood in the northern hinterlands, which explains why you've never actually been there. Nice, then, that they've come to you.

The space mixes rustic exposed brick and jade marble, while the menu specializes in the charcoal-roasted young chicken of southern Brazil and the Italian immigrant influence from that region.

You and a group of your hungriest friends can start the night with plates of roasted eggplant and cheese bread, quickly followed by three kinds of pasta—but go easy on them: you'll soon be facing down unlimited chicken, lamb and beef tenderloin (along with sides of crunchy potatoes, arugula salad and polenta). And if all-you-can-eat is too much, you can always order à la carte.

Thankfully, you're not the type who knows when to say when.