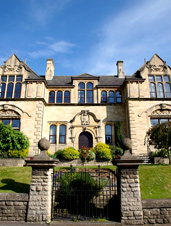 There's no place like home.
Still, as you travel to the far corners of the earth, going places where hotels dare not go, embracing experiences that most will never know, you deserve a nice warm bed and a soft pillow—all nestled inside the kind of palace you've grown accustomed to.
Which brings us to
Luxe Home Swap
, a site that sets you up with castles befitting your station, online now.
First, we know what you're thinking: you've seen these kinds of sites before. But not like this. You will find luxury homes, and only luxury homes, therein. (Say, a four-bedroom
riad
in
Marrakech
, or a three-bedroom
farmhouse in rural France
. Yes, there's a pool.) The site employs a team of earnest British enforcers, whose sole job is to make sure that nothing less than first-class gets onto the site. (They also make sure all listings spell
colour
with a
u
.)
You'll start by listing your own home for future swaps, including a couple of photos and a brief, sexy-sounding description. (Basically, a personal ad for your place.) Once you do, you'll have access to a treasure trove of houses from far-flung locales like Buenos Aires or Slovakia (we hear the weather's beautiful there this time of year).
Before you go, you'll drop your host a line to make arrangements (there's a quick screening process there too) and work out the dates.
Just remember to hide the magnums of Krug.