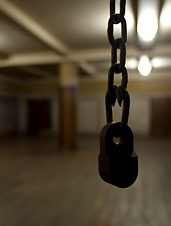 You've done the tourist things.
You've seen the inner workings of Alcatraz, Anchor Steam and even the elusive Distillery No. 209.
But there's one supremely evasive tour that might be the Everest of all San Francisco historical lessons...
Welcome to
Armory Tours by Kink.com
, an hourlong look into the mysterious five-story mansion of porn hosted by the people behind some of the most eccentric bondage and fetish entertainment around, offering tours now. Brace yourself...
Think of Kink's headquarters—a massive reproduction of a Moorish castle that once housed the National Guard—as the Playboy Mansion, but with less geriatrics, more professional porn stars hard at work, and working sets like the Boiler Room, the Hogtied Room and the Shooting Range.
Your entrée into those neo-medieval walls starts by signing up for the guest list in advance, then giving your name to the security guard, who'll buzz you in. (If you're late, you'll be left behind—though we could think of better ways to get "disciplined.") Fiona will walk you and 20 others through the padded cells and dungeons within this massive temple of erotica.
With 70 shoots a month for titles like
Ultimate Surrender
and
Everything Butt
, sets will be active during your tour. Look for the blazing red lights in the hallways indicating action—if you're really lucky, you might see a dominatrix putting whips, flogging paddles and stocks to good use.
Play nice.