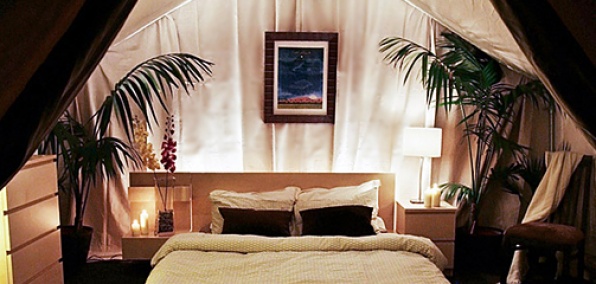 It's Coachella time once again, and we've found an eye-popping new way to add a little jungle intrigue to your unforgettable music weekend.

No, we're not talking about the song "Africa" by Toto.

It's called the Coachella Safari Tent, and it's now available for reservation.

Basically, it's a tent, and yes, it's a bit on the pricey side. But if you're in the mood to pulverize your tax return this year, this is a roomy habitat for two with a queen bed, outlets and, most importantly, air-conditioning—the perfect place to enjoy a breezy respite from the scorching indie pandemonium. (Touch the pillows. Nope, not a mirage.)

You'll also get VIP wristbands, which grant you shuttle service and backstage access. And there's a 2am noise curfew in these parts—which means you'll wake up refreshed and ready to properly chat up Zooey Deschanel (or her less famous equivalent).

A word of warning: to keep things civil in your temporary neighborhood, you only get to store one case of beer per person for the weekend.

Officially.