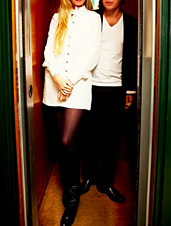 We've said it before and we'll say it again: the world needs more high-class voyeurism.
Here to help you peer in on the occasional supermodel (without getting yourself arrested) is an intriguing new coffee-table tome called
The Selby Is in Your Place
, hitting bookshelves this Thursday.
If the name sounds familiar, that's because this is one of those blog-to-book phenoms, following in the proud history of Stuff White People Like, Texts From Last Night and Chuck Norris Facts.
Like the website, the book brings you with photog Todd Selby as he travels from LA to NYC to Paris to Sydney, dropping into the private quarters of artists and muses like Helena Christensen, Karl Lagerfeld, Christian Louboutin and the occasional woman with a shower in her kitchen. (That'd be in NYC.)
You'll also catch up with an Aussie surfer, an inspiring Parisian magazine editor (by night he's "a master of erotic games"—but, then again, aren't we all) and a guy who got his hands on Marilyn Monroe's bottle of sleeping pills.
Put this on the top of your coffee-table stack, and it'll convey the refreshing perspective that not all art forms require a screenplay.
Or that you're considering adapting it into a screenplay.