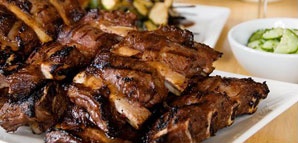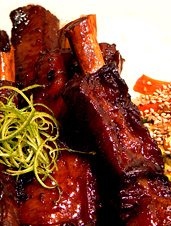 These are wildly ecstatic times...
Daylight Savings hit last weekend.
March Madness started today.
Saturday is the official first day of spring.
And barbecue season finally, officially smokes its way back into your life on Tuesday with the Williamsburg opening of the two-years-in-the-making meat palace
Fatty 'Cue
, Zak Pelaccio's (
Fatty Crab
, Cabrito) Malaysian take on American BBQ.
First, take a moment to compose yourself and bask in the sauce-slathered glory of your previous BBQ conquests—the pork, the ribs, the sausage, the meat coma. Now take what you remember, toss in a little Southeast Asian intrigue, sprinkle a good amount of rare foreign spice and house it all in a three-story copper-and-wood-decked industrial palace, and you start to get an idea of what you're in for when you make the BBQ pilgrimage to Brooklyn.
When you arrive from your journey—parched, fatigued, famished—you'll find the simple meat and rum delicacies you were seeking out waiting for you: a few Dark & Stormys, some other spicy cocktail concoctions and a laundry list of tender, varied meat treats:
Pork Spare Ribs
,
Lamb Shoulder
,
Red Curry Rubbed Duck
and maybe a little
Seafood Sausage
.
But if you're game for getting your hands dirty, you'll want to order up a plate of the make-your-own buns, complete with a housemade bao bun, Wagyu brisket, chili jam, aioli and red onion.
Every pilgrimage should end with make-your-own buns.