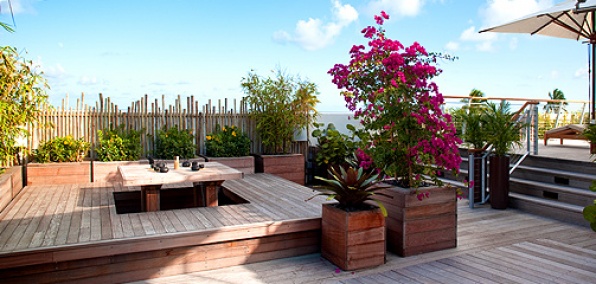 Maybe we're imagining things, but you've seemed a bit tense lately.

You could probably use a deep, knot-obliterating massage, in your own private cabana...on a bamboo roof deck above Ocean Drive.

Introducing the Spa and Wellness Garden at the Betsy, the first and only alfresco spa in Miami, now open on the hotel's South Beach rooftop.

Now, keep in mind that this operation is a bit different from your typical hotel spa. There are no fancy locker rooms, saunas or steam baths. Instead you'll find private outdoor showers, lush palms and canvas-covered chaise lounges... It feels a bit like your favorite masseuse opened a tea garden on their condo's solarium.

When you step off the elevator four floors up, you'll be greeted with a mimosa, a lavender footbath and, of course, mind-calming views of the ocean. From there you'll be directed to your own linen-curtained cabana, where you'll sink into 80 minutes of a stress-killer like the Wood Stone Ritual (a little treatment that involves exfoliation, massage and wood stones that get heated up by your body).

And don't leave without spending some QT on a lounge chair, ordering up a couple more mimosas and maybe even lunch from BLT Steak downstairs.

All massages should come with steak.