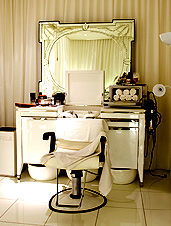 There are certain time-honored traditions that should never change.
Except maybe a little.
Like a trip to the barbershop for a soothing hot-towel shave by an old, white-haired craftsman. Allow us to tell you about the new man in town offering a 21st-century take on a classic gentlemanly indulgence. Introducing the
Master Barber of Ciel
, available now.
First off, you'll recall that Ciel is the ultramodern, all-white spa tucked into the down-the-rabbit-hole SLS Hotel. So you shouldn't expect a bunch of grandfathers sitting around with chessboards...
Instead, the 24-year-old they've shipped in from the East Coast, a shaving prodigy by the name of Tim Yanchun, has been cutting hair since he was 12, and earned Master Barber certification—it takes two years to receive, and you have to train under a Master Barber elder—while you were still doing keg stands in college. (Good form, by the way.)
So the next time you want that smooth-as-a-baby's-ass feeling, or are in dire need of the sort of relaxation only another man shaving you can provide: call up Tim. Drive on over—the hotel valet is free for his customers this month. Settle back into his white chair, close your eyes and bask in an array of steamed towels, oils, temple massaging, gels and the actual old-school shave.
Afterwards, he'll even direct you to the bar...