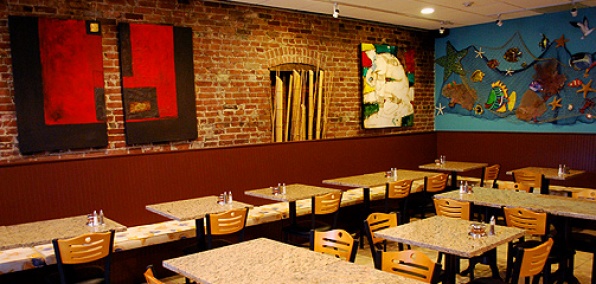 Brazil.
An exotic land known for its leggy models, thorough waxing techniques and lush rain forests (presumably housing hordes of gorgeous women under the canopy).
So when a lauded hole-in-the-wall Brazilian restaurant in Cambridge decided to relocate down the block for more
elbow room for you and your friends, it's fitting they quietly did so under the cloak of our recent Amazonian monsoon...
Presenting the new
Muqueca
, conveniently reopened a stone's throw away from the old Muqueca near Inman Square.
You'll be happy to know the funky new 54-seat exposed-brick spot is still your go-to for authentic Brazilian seafood stews served steaming hot in handmade clay pots (called, appropriately,
moquecas
), huge orders of
Feijoada
—the national dish of Brazil (think: pork ribs, dried beef, sausage and bacon)—and some sizzling
Fried Frogs' Legs
, when you're in the mood for, well, fried frogs' legs (occasionally it happens).
And because no night of South American feasting is complete without a little live entertainment, the new space will feature Brazilian bossa nova acoustic acts to serenade you while you're finishing off dinner, imbibing from their beer and wine list at the bamboo bar, or even capping off all the stewy deliciousness with some of their silky housemade
Caramel Flan
.
Known as the Alessandra Ambrosio of desserts.