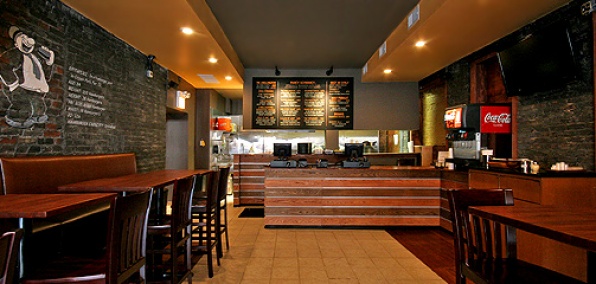 Occasionally, maybe once a year or so, your weekend blurs together in a verdant swirl of Irish stout, parade fanfare and pleated skirts rising ever-so-slightly in your direction.

And don't even get us started on the weekend before St. Patrick's Day.

Our surefire trick for keeping your days (and nights) straight is to throw a big, thick, juicy burger between them. So welcome to J. Wellington's, your new 3am burger salvation now open in Bucktown.

The name offers homage to J. Wellington Wimpy, that magnificent bastard of Popeye fame, who perfected the fine art of highly leveraged burger mooching. Here, however, there's no spinach in sight, and even the sole tofu burger has the good sense to be breaded and fried.

Instead you'll find a place that's light on glitz—some painted bricks here, a few striped walls there, a long, soft leather banquette right when you need it after a hard night of lounge hopping—and heavy on hamburger.

Choose among eight specialty burgers (well, seven, really—there's a giant hot dog split, fried and served Chicago-style on a poppy seed hamburger bun) that dabble in everything from fried eggs and smoky applewood bacon to spicy sriracha mayo and fried dill pickle chips. And if you're looking for something on the sudsy side, you'll find root beer floats.

That calls for another parade.