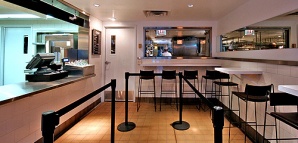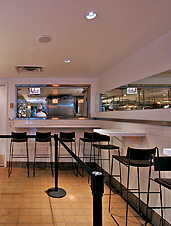 Before we even start, we'll just say this: we know. A burger joint. Again.
But stick with us—because this is a good one.
Welcome to
M Burger
, a new burger-and-shake shack opening this Thursday in Streeterville.
You know the area: the front door is around the corner from the legendary Tru, a place your expense account happens to know pretty well. But this white-tiled space is so small, you couldn't squeeze in a caviar staircase if you wanted to—in fact, M Burger has parked its griddle right smack in the middle of Tru's kitchen. (That's some shack.)
M Burger replaces Tru's old chef's table—which was sort of a backstage pass for foodies. Now, the only kitchen floor show is a chef making sure your
M Burger
has the proper amount of bacon, and that the secret sauce has the right amount of spiciness. (Fascinating stuff.)
There are a couple of tiny tables, but you'll probably make this a busy afternoon grab-and-go lunch spot. Stand in line and contemplate your choices: burger, fries, shake. (There's a few chicken items in supporting roles, but let's focus here.) Your burger is a quarter pound of Midwestern grain-fed beef served on a fresh-baked bun. Shakes include strawberry, vanilla and chocolate—but you'll go off-menu for the secret caramel. Around St. Patrick's Day, you'll also find a mint-chocolate version.
Just your luck.