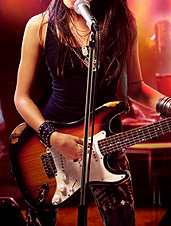 On occasion, you have been rumored to party like a rock star.
But there was a time, not too long ago, when you actually
were
a rock star. Leather jackets. Pinup girl tattoos. Playing the occasional sold-out bowling alley.
Yes, the glory days were...glorious.
Here to help you rekindle the flame of face-melting rock and roll:
Bandize,
a new website devoted to handling the business side of your garage band's reunion tour, so you can keep focused on what really counts: the groupies. (Or the music.)
Basically, it's an online manager for your reformed En Vogue cover band that can handle all the non-rocking parts of hitting the road, with the possible exception of removing your green M&M's.
First, you'll need a band name (Throbbing Vampires, check) and then you and your bandmates can start by setting up your calendar—a couple of practices, maybe, and then a handful of shows. From there you can, say, track how much money you and the group made after your last gig. (Feel free to give your drummer a little less.)
Finish by setting up a virtual shop—an online table from which you can sell your merch.
Like locks of your hair.