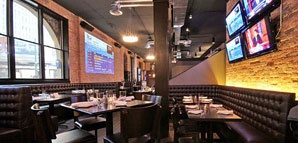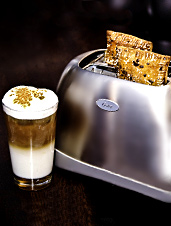 The week has been tough, sure. But it's not as if you're going to spend the weekend curled up in the fetal position.
Though a little regression might be in order.
Introducing
Pajama Jam Brunch at Bull & Bear,
your weekend escape to the Saturday mornings of your youth—when
Transformers
were still LaBeouf-free, toasters worked overtime to warm your Pop-Tarts, and Mom regularly popped the cork on another ice-cold bottle of Perrier Jouët. (You always had the coolest mother on the block.)
Now, we know Bull & Bear is usually the loosened-tie after-work spot where you can unwind after your adult-world worries, but starting now, on weekend afternoons, it's all inner child.
You'll walk in to find
Scooby-Doo
and
The Smurfs
on the flat-screens instead of sports, and servers decked in their finest lace-and-flannel sleepwear, bringing you Bull & Bear's own version of a flaky Pop-Tart, stuffed with strawberry-basil jam or bacon, egg and cheese, served in individual toasters. You'll also find the breakfast items that Kellogg's never quite mastered, like
Bananas Foster French Toast
with bananas glazed in orange juice and rum.
As you expect from a place that trusts you with your own beer tap, there's also a design-your-own Bloody Mary bar, with artisanal cheese, pickled green tomatoes and sauce made from ghost chili, the hottest in the world.
Consider it your weekend chore.