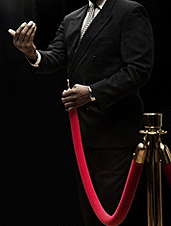 As Hollywood gets all flustered about Oscar Sunday, you can't help but remain a bit more forward-thinking.
Because it's Monday that brings the long-awaited official debut of
Soho House West Hollywood,
a private, members-only club perched high above the west end of the Sunset Strip.
First things first—if you totally forgot to submit your membership application,
here it is
.
Once that's taken care of, you'll pull into the valet under the Luckman Plaza building—you know it as the home of
BOA
—and take a private elevator to the penthouse. Arrive as early as 8am (9am on Sundays), and you'll find a two-level, indoor-outdoor playpen of highbrow leisure. (Think: lots of liquid fuel.)
If you're not yet ready for sunlight when you arrive, commandeer the vintage chairs not far from the bar for a steady dose of coffee—or step into the 34-seat screening lounge to catch a movie. (It hasn't been used yet, so you'll be the first.)
Later, you'll want to head upstairs to the roof for the spectacular Sunset sunset, where martinis shall flow under rustling olive trees.
Every martini should be so lucky.