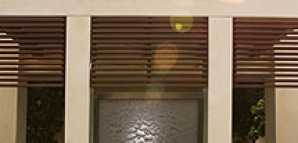 Sometimes true escape can only be found within.Within city limits, that is. Presenting: David Geffen's re-imagining of the Malibu Beach Inn, opening today.

The prior incarnation's pink-and-teal motif has thankfully been retired. Now after you pull into the valet circle, you'll be enveloped in a low-key beige, white and chocolate-brown scheme that lets the ocean view dominate from almost every spot inside. Waves crash underneath the building during high tide, and home feels hemispheres away (even if it's just down the PCH).

Enticements to remain within a 20-foot radius of your bed for the duration of your stay include the glass-railed balcony, in-room wine bar, Trina Turk robes, rotating flat screen, 24-hour room service and, of course, your bedmate. Most rooms are essentially the same, so you'll want to separate yourself with one of the larger one-bedroom suites.

If you do muster the stamina to journey downstairs, you'll settle around the patio's glass-filled fire pit, or out on the sand for Grilled New York Steak between sips of California wine. Just keep in mind you're only allowed on the property if you're a hotel guest—the standing doctrine until the finicky permit gods are convinced additional traffic won't plunge the entire city of Malibu into the sea.

Some decrees even Geffen can't escape.