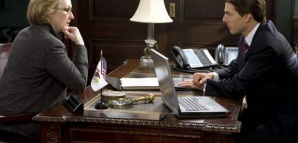 You've somehow cleared room on your shelf. Ah, the sacrifices you make for award season.

The good part of this time of year: The film-connoisseur favorite AFI FEST 2007, taking place November 1-11 at the ArcLight and other local venues. (The bad part of this time of year: When you're not treading down one of the crimson carpets, you now have to steer your wheels around Hollywood entirely until March.)

Among the 148 films from 37 countries, many being shown for the first time in the country (or the hemisphere, or the world, or the universe), the glitziest will of course be the premieres. The fest opens with Oscar beggar Lions for Lambs, starring Meryl Streep, Tom Cruise and Robert Redford, who also directs (a plot involving Afghanistan confirms its serious/seriously statuette-hungry nature). Closing night: Love in the Time of Cholera, starring Javier Bardem. (Literary adaptation, check. Serious Spanish actor, check.)

You can also busy yourself with tributes to classy dames like Laura Linney and Catherine Deneuve, as well as films like The Diving Bell and the Butterfly, the biographical story of a French magazine editor who dictated his entire memoir by blinking (we know what you're thinking: roller coaster thrill ride). All-inclusive passes are on sale now, and event-specific tickets can be purchased Friday.

And don't forget to thank your manager.