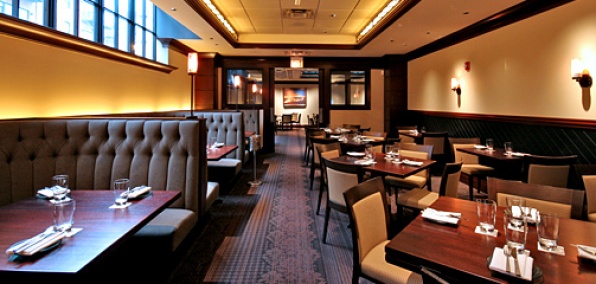 This Sunday's little football game might make you nostalgic for the great Chicago teams. The '85 Bears. The '91-'98 Bulls. The '90-'04 Ritz-Carlton Dining Room.

Good news: one is making a comeback.

Welcome to Prairie Fire, opening tonight to be your new West Loop go-to for juicy steaks, precision cocktails and—keeping with Sunday's national holiday tradition—the occasional hot wing.

You've probably stopped by Prairie Grass on the North Shore, run by the four-star duo from the Ritz-Carlton. They left downtown a few years back for the bright lights of Northbrook—and now that their hamburgers and shepherd's pie (with beef direct from Bill Kurtis's Tallgrass Farm in Nebraska) have started inspiring religious pilgrimages up the Edens, they've returned.

Prairie Fire is like its rakish-but-sophisticated, up-for-anything brother with a West Loop loft conversion—in this case, in the reclaimed railroad powerhouse behind Ogilvie.

By day you'll schmooze clients over filet mignons and stiff martinis. After work, swing in for an impromptu dinner at the bar with crispy pizza, grilled wings and a Rum Swizzle with house-made falernum—after one, you won't even care what falernum is.

For Valentine's Day, the barbecue brisket is already slowly braising and the wine cabinets are stocked, unlocked and ready to be of service.

So, please, don't fumble.