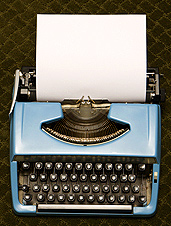 Well, the nominations are out—and it's pretty clear your name should've been on that list.
If only you'd finished the script. Oh, and found somebody who liked it. Also: got it made. And: discovered it actually turned out well.
Here to get you on your way to next year's Oscars—or 2016's Oscars—is
Circalit,
a new website now in beta that's gathering screenwriters throughout the land.
Finally tapping into writers' most renowned traits—their social skills—the website brings a social-networking component to your quest for UTA representation and Hollywood glory. Simply sign up for a free account, post your logline and script (not to give too much away, but it involves three priests, two wiseguys—and vampires) and watch the praise roll in from Los Angeles to Little Rock to London.
Of course, every party (virtual or real) is only as good as the people who show up—and they've partnered with Script Factory (with ties to Disney, Sony and Fox), who will read the best-rated script each month. So we're not sure Spielberg is refreshing his Circalit home page every three seconds just yet, but his second assistant's second assistant might be.
And you two are tight.