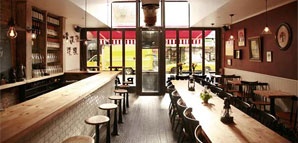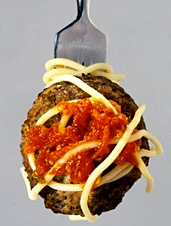 The Universe leads by example.
The planets, the stars, Penelope Cruz's backside—all perfect spheres.
Which leads us, naturally, to the rare and heavenly beauty of the meatball.
 According to the Universe, its time has come...
Welcome to
The Meatball Shop,
devoted to the world's most well-rounded meal—literally—opening next week on the LES to satisfy your rambunctious late-night requirements for beer and spherical foodstuffs.
The latest in a line of tiny downtown eateries whose sole purpose is to aggressively and passionately dominate one slice of the comfort food universe (
cannolis
,
poutine
,
mac and cheese
,
bottle service
), Meatball is big, bright, open till 4am and decked out with light wood, subway tiles, mirrors and a giant 20-person rustic communal table at the center of all the action.
It's the kind of homey, hip farmhouse where you'll happily drop by to overindulge on a spaghetti/meatball/beer trifecta before (or after) wandering out into the regal wilds of the LES. Walking in, know that you'll be entering a world littered with all manner of esoteric yet comforting and addictive little balls of meat—spicy pork, veggie, chicken, salmon—that you can pair with various carb vessels like pastas (the aforementioned spaghetti and meatballs), breads (heroes and sliders) or...nothing.
Allowing the pure meatballness to shine through.