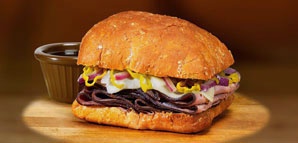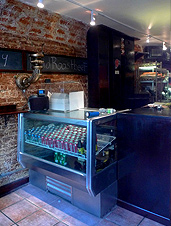 There's something in the air, perhaps those icy cold blasts of arctic wind, that has us thinking on the more profound qualities of roast beef.
Actually, it's probably just the smell of roast beef...
Welcome to
This Little Piggy Had Roast Beef
, a tiny one-room ode to the glory of sliced meat, from Francis Garcia and Sal Basille, the evil gastro-geniuses behind Artichoke Pizza and
Led Zeppole
, opening today in the East Village.
As the name confusingly implies, this new place is devoted (almost) exclusively to the preparation and presentation of roast beef. There's no pork on the menu, and the only domestic animals in sight will be you and your friends, crowded into the tiny storefront with no chairs and going to town on the same kind of addictively flavorful food that makes Artichoke worth the half-hour wait for a slice.
If the notion of a roast-beef-only restaurant seems absurd, consider how much less absurd it might sound around 3am, when after a night of marauding in the East Village you come upon This Little Piggy and two of its menu items:
This Way
and
That Way.
You'll want to focus your attention on the
This Way
: beef, marinated for hours, slow cooked for hours more, piled onto a chewy egg roll and then, yes, drenched in real Kraft Cheez Whiz.
If you prefer your cheese in nonliquid form, there's the
That Way,
made with the same fresh mozz they use at Artichoke and bread from legendary Cammareri Bros. in Brooklyn, where Nicolas Cage played Cher's love interest Ronny Cammareri in
Moonstruck.
That's the kind of pedigree you just don't find at Arby's.