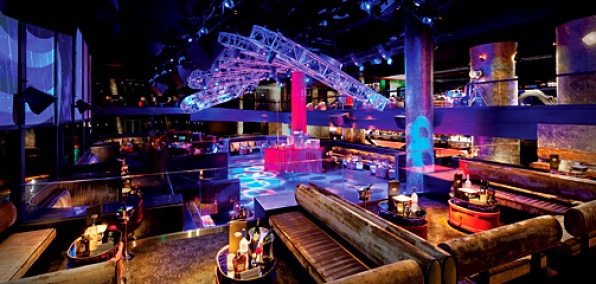 You've heard the rumors.

Somewhere in the depths of Vegas's newest, sharpest tower, there's a club big enough and wild enough to charm even the most jaded clubgoer.

Well, we've seen it. And...well, you're about to be charmed.

Welcome to Haze Nightclub, a two-story mega-club in CityCenter that just entered the highest circle of Vegas nightlife alongside Tao and XS, open now.

Over the past month, this new spot has turned into a genuine palace of neon-lit debauchery. So the next time you're passing through town for a couple nights of clubbing, it should be your first stop—at least after the baccarat tables.

We suggest strolling in around midnight, when the crowd's just getting large enough for serious revelry. You'll enter through a series of suede-lined tunnels before emerging on the outskirts of a bass-pounding, color-changing dance floor small enough to keep things packed, with a UFO-ready array of light dots and lasers swirling in the air above you.

After a while, you might need a breather from all the action, so head to one of the VIP booths on the upstairs mezzanine and you'll be able to keep an eye on your crew from above. Take a look at the wall behind the DJ booth and you'll see the best special effect of all: two stories of silhouetted dancing girls.

Because three stories would just be gauche.