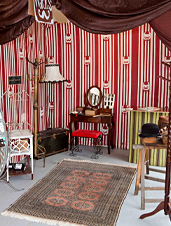 There are a few of society's rules that, despite your best efforts, you still have to obey. Like the one about wearing clothes.
So over the years you've developed some go-to's. UnionMade for wool shirts. A-B Fits for jeans. The Internet for your monogrammed jodhpurs. You know, the basics.
But this weekend, you'll be able to find everything you need in one place—and if they're throwing in gratis absinthe, all the better...
Welcome to the
Man Up Pop-Up Menswear Market,
a three-day event bringing together the city's finest purveyors of badass menswear (and a bit of booze), all under one roof.
In short, it's like a farmer's market for clothes—17,000 square feet of stalls selling essentials like jeans, button-downs, ties and...Dutch cruising bikes. Your hosts: about a dozen local shops and labels, from Rising Sun (for your next pair of rugged denims) and Paul's Hat Works (for a custom fedora to shield you from the rain on your way out) to Taylor Stitch's shirt bar (self-explanatory—and conveniently close to the
bar
bar). All set to the tune of DJs pumping out old-school hip-hop.
To keep the vibe relaxed, they'll be serving you gratis brews from Lagunitas, vino from Scribe and Cosentino, and even a few absinthe cocktails.
Try not to spill any on your new shirt.