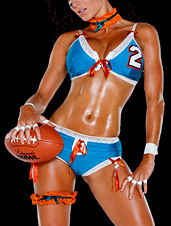 In two weeks, the Super Bowl will be played in Miami. And sure, that will be exciting.
But tonight you have the opportunity to witness football the way it was meant to be played.
By really attractive women. In their underwear.
Someone call the guy who does the voiceovers for NFL Films, email Hank Williams Jr. and get ready for some smashmouth lingerie touch football—sports fans, give it up for the
Miami Caliente,
gunning for glory tonight at the BankAtlantic Center.
First, a little background on the genius that is the Lingerie Football League. If the Super Bowl were combined with the World Cup, the Olympics and the grotto at the Playboy Mansion, you would get something close to the pageantry, competitiveness and white-knuckle sexiness of what will be on display this evening. Namely, world-class athletes, stripped down to the bare football essentials: bras, panties and elbow pads.
But this isn't just any underwear pigskin matchup. It's your hometown Caliente, one game away from the biggest spectacle in burlesque sports, Lingerie Bowl VII. And as fate would have it, the only team standing in their way is the tough-as-nails outfit from the Bay, the Tampa Breeze.
Yes, that's right—it's an intrastate showdown in the long-standing tradition of Dolphins-Buccaneers, Gators-Hurricanes and Epcot-Busch Gardens.
Here's hoping they leave it all on the field.