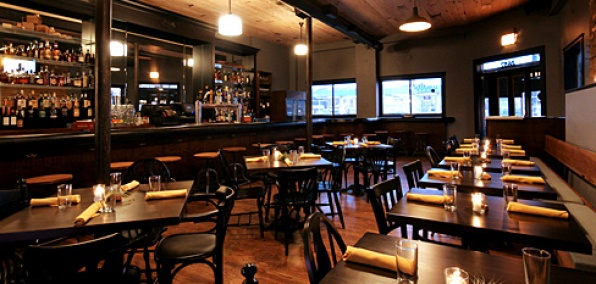 Go ahead, get comfortable.

Start with drinks at the bar. For dinner, try something hearty, something braised, something very anti-January. A little dessert never hurt anyone, either...nor has that extra cocktail.

Now you're looking a little sleepy. Your first instinct: go home. Your second instinct: get a room.

Always go with your second instinct.

Welcome to Longman & Eagle, a new Logan Square restaurant and bar opening Wednesday that, come spring, will offer you a little something extra: sleeping arrangements.

In short, imagine a cozy old Chicago inn from the turn of the last century—a time when men were men, Chicago was Chicago and kindly innkeepers were your late-night salvation.

The hard-nosed butcher block tables and barstools—imported from some old factory floor—tell you this is a spot for no-nonsense belts of whiskey. Meanwhile, the Kobe meatballs, wild boar sloppy joes and hot Yuzu Toddy (Maker's Mark, applejack, yuzu honey) ensure your palate will be appropriately soothed.

After dinner, squeeze up to the bar just to listen to a few 45s from the vintage jukebox, stocked with an assortment of classic and indie rock. And when the handful of rooms in the boutique hotel upstairs debuts in the spring, and when L&E begins serving breakfast downstairs, you might be tempted to just stay the night.

You've always loved sleepovers.