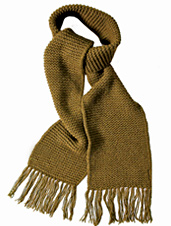 We love your mom and everything...
But sometimes (just sometimes) she comes up short in the gift department.
Which means that, from time to time, you end up with a beautiful sweater that may or may not have been in heavy rotation in Bill Cosby's wardrobe in the '80s.
We can help. But you might want to keep it a secret—you see, it involves someone else's mom...
Introducing
Reknit,
your chance to have a kindly mother turn your unwanted sweaters into newly beautiful scarves, taking orders now.
Consider it a second chance for all the ugly, saggy, oversized knitwear in the world, particularly the lumpy cable-knit mock turtleneck sweater currently collecting dust in the bottom of your dresser. Throw it in an envelope, make a quick Web payment and ship it off to Reknit HQ (aka a cozy Beantown apartment where someone's mother is currently drinking herbal tea and waiting for your clothing). A week or so later, you'll get back those same strands of yarn transformed into an impeccably stitched scarf. She'll even add in a matching hue if your sweater was just one solid color—not likely, considering your hidden stash of reindeer and rainbows.
And if you've already got a beloved scarf, just wait until February when they move on to the next item: a Web poll will help them decide between beanies, gloves or socks.
We'd start stockpiling sweaters now.