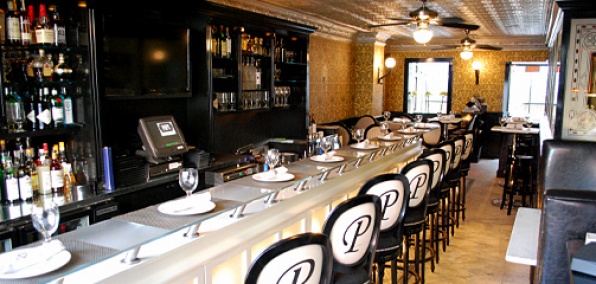 When it comes to makeovers, there's a delicate line separating the good from the bad.
The change needs to be focused on taking what already works and just making it better with key improvements (see: Jeremy Piven), without going overboard and ruining what everyone loved about you (see: Meg Ryan).
Applying this in bar form:
Pops Restaurant,
starting off 2010 with a new bar, new menus and a new cocktail-friendly feel, now reopened for you in the South End.
When you walk in, the first thing you'll notice that's different is the brand-new 14-seat gleaming white bar, which replaces a long stretch of tables (we'll take bottles of booze over two-tops any day). Meanwhile, the three-seat bar that served you so well in the past has been subbed out for a roomy black leather booth fitting about the same number of people (imbibing should be done with ample space).
And because a new vibe is the perfect time to introduce new offerings, Pops is unleashing a
26-strong craft cocktail list
as well as a completely new
tapas menu
. Which means your
Tempura Shrimp Stuffed Peppers
will be made all the better with a
Yuzu Lemon Drop
. Or if you're feeling aggressive, there's a high-octane
Absinthe Horchata
to wash down your
Grilled Espresso Lamb Chops
.
We always prefer espresso with our absinthe.