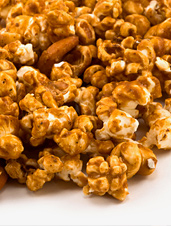 In the past 12 months, you've seen a lot of mind-blowing special effects on the screen. Singing chipmunks. Transforming cars. Blue Sigourney Weavers in 3-D. It's all very 21st century.
And yet your popcorn-eating habits remain stuck in the black-and-white, booze-free realm of salted butter and Orville Redenbacher.
Here to change all that:
Pig Out
Bacon Bourbon Caramel Corn
from Salted Caramel, which just might be the biggest innovation in snacking since the microwave oven.
It's been developed by a Chicago chef who endured endless varieties of bacon-grease splatter—a pain soothed only through extensive bourbon testing—until she perfected the right combination of flavors and consistency that expertly balanced smoky, sweet, buttery and sticky. Basically, she's the James Cameron of the munchies.
So when you fire up your TV for the upcoming Super Bowl, a night of
Lost
or
The Tonight Show
starring...we're not sure at this point, you'll be prepared for whatever twists await. You'll be soothed by the notes of Jim Beam and hickory-smoked, thick-cut bacon, and the sweet caramel topping.
And if that doesn't work, you've got your own innovation: bourbon by the 64-ounce cup.
Served with a straw.