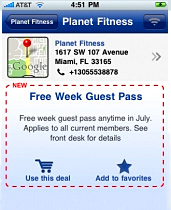 Save money.
It's one of the many New Year's resolutions you committed to in a champagne-fueled haze two weeks ago (right after "install home beer tap" and "date a Miami Dolphins cheerleader").
But you were never one for clipping coupons or practicing a mythical behavior known as restraint.
Which is why you'll be happy to know about
Shooger,
a new app that aggregates local deals and allows you to redeem them simply by flashing your phone.
Think of this app as the latest in your arsenal of life-enhancing mobile content. Developed by a few Coral Gables entrepreneurs, Shooger is ridiculously easy to use: simply browse the app's deals in your area, and when you want to redeem one of them, choose to clip it (virtually, of course) and present it at the store or business. Right now, with Shooger, you could grab a gratis appetizer at Moshi Moshi, $5 cocktails at Da Vittorio and two-for-one caipirinhas at the Love Hate Lounge.
The offers aren't just limited to food and drinks, either. You can download a coupon for a discounted haircut at Razzle Dazzle Barbershop, find deals on car washes and even nab a couple free hours of boat rental courtesy of Captain Joe's.
You wanted to rent more boats this year.