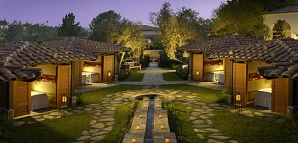 You don't need a reason for a weekend getaway—you just need your lady and a plan.

Still, the fine hosts at San Diego's Rancho Bernardo Inn have spent $25 million in an attempt to give you a few new reasons anyway. (They're thoughtful like that.)

Spread out over 265 acres (including two golf courses), the plethora of rustic buildings—with crackling fires indoors and out, as well as your annual quota of antlers—contain almost 300 remodeled rooms with views of the courses, the San Diego hills and the new cabana-lined saline pool for spa guests. Three of the new spa's masseuses are martial-arts masters, and one stretches out the Chargers, so you can count on a suitably intense rubdown in your outdoor hut (and maybe a crane move).

At your tasting dinner (a must), prize-winning El Bizcocho chef Gavin Kaysen won't tell you how he did on The Next Iron Chef—which debuts Sunday—but he'll gladly tell you all about his spoon-specific kleptomania. (He steals one from every restaurant he visits.) On night two, consider securing the outdoor dining area at the far edge of the less formal Veranda restaurant's patio, with its own fireplace under lantern-lit trees. Try and maintain eye contact with your guest, even though you'll be tempted to sneak longing glances over her shoulder.

Hole 18: such a seductive temptress.