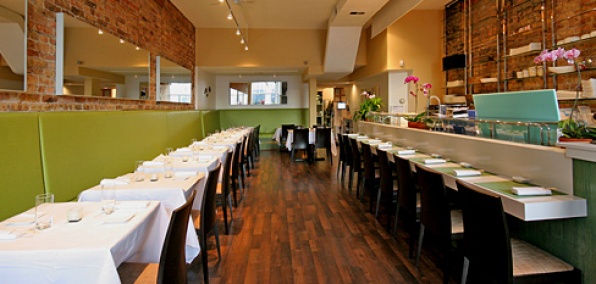 Recently—very recently, in fact—you found yourself waxing nostalgic about old acquaintances.

Well, consider this an unexpected friend request from just such an acquaintance…but with more sake.

Introducing Macku Sushi, a snug Lincoln Park sushi den offering a menu of fresh sushi, hot sake and endless possibilities, open now.

Okay, we know the first thing you're thinking: you don't remember any Macku Sushi. (No, it isn't because of that sake.) Welcome to the reinvention of Roscoe Village's sorely missed Kaze.

You'll be greeted by a familiar face when you enter, when Kaze Chan looks up from the precision slicing of his signature pristine hamachi (topped with a banana pepper) to offer you a hearty welcome. But it's Kaze's brother Macku—in the kitchen whipping up venison, duck and beef tenderloin—with his name above the door this time.

The tiny bar in this cozy one-room space is fine for that quick carafe of hot sake and a spider roll before you scurry through the cold to Webster Place theater. But a long, celery-green banquette, candlelit tables and plates of toro tartare (sprinkled with a rainbow of roe), might just make you want to linger.

You have a lot of catching up to do.