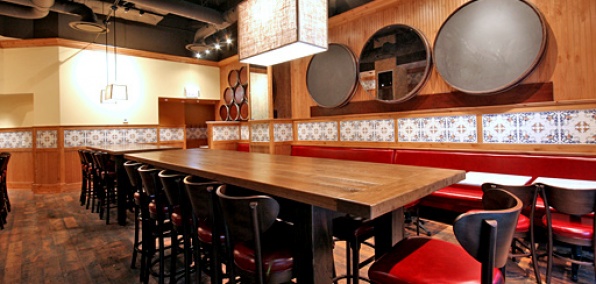 This year will end in a flurry of popping corks, sprays of imported wine and crowds of friends.

Come to think of it, it's a pretty good way to spend all of 2010…

So welcome to The Purple Pig, the long-awaited spot for fried pork, hearty wines and after-work shenanigans, opening by the first of the year.

Head down that little jog of Illinois just off Michigan to find the entrance. With floorboards reclaimed from an old Wisconsin grain elevator, large communal farm tables and marble bar tops, the space looks like a country winery set inside a tony Loop loft.

Chef Jimmy Bannos, Jr. (the son of the Heaven on Seven chef ), who earned his pork—ahem—chops cooking in Italy and under the tutelage of Mario Batali in New York, will serve your favorite antipasti (soppressata, prosciutto, Serrano ham) and small plates of grilled prawns, octopus and waygu. You may find yourself, however, exploring interesting new porcine territory via the plates of pig's feet, ears and tails.

But now that eternal question: what wine for pig tails? The vino list is designed to give you lots of options, and you'll find about 50 under $40. Though when you're looking to spend a couple hundred bucks on a nice Barolo, no one's going to stop you.

Everyone knows you like to share.