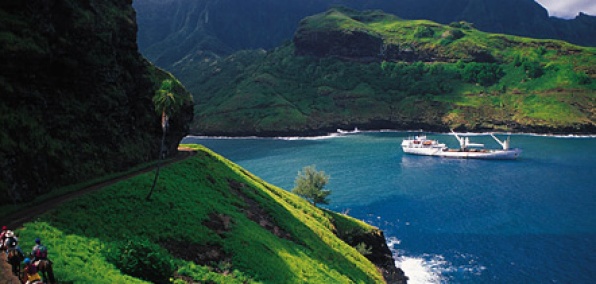 After the kind of year you've had, you're thinking about ditching it all, hopping on a freighter and hightailing it to the nearest desert island.

Here's how.

Allow us to present Aranui 3, a real-life working cargo vessel that just happens to have room for a handful of stowaways, currently making 14-day delivery trips to some of the most remote places in the world.

First, you'll need to get to Tahiti, where you'll hop aboard a freighter with a bed and not much more—and that's kind of the point. You'll also be on one of the last boats to carry both passengers and cargo (try not to go pirate). All told there's 50 crew, 200 stowaways and a truly staggering quantity of dried coconut pulp—but once you're on the water, you're not likely to see a single other vessel. You can entertain yourself by hanging off the front bow, DiCaprio-style—or else, we're told the sailors have ukuleles. (Yes, they do a mean "Stairway.")

After three days in transit, you'll arrive at the Marquesas Islands, a speckling of ten pristine, sparsely inhabited islands 800 miles to the northeast. They make this run 16 times a year—those people need frozen chicken, after all—but this boat is the only contact with civilization the locals get, so you'll be in the midst of an almost completely untouched wilderness. And while the tattooed deckhands are unloading crates of beer—feel free to lend a hand—or you can snag a beer, glance at a map and head straight for the nearest empty beach.

You're in for some truly epic sand castles.