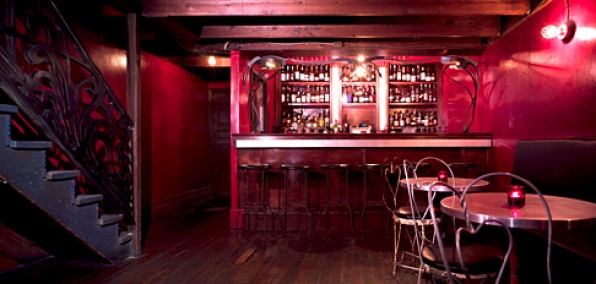 Making it a double is always a good thing.

This it true when it comes to your scotch, of course…and when it comes to the bars where you might
drink said scotch.



Welcome the Hideout, a new bar within a bar at dive favorite Dalva, opening tonight in the
Mission.



If the words "bar within a bar" just made your head spin, we understand. The bars beautifully coexist to
meet your complex drinking needs—it's like peeling an alcohol-soaked onion. So the next time you're
enjoying a few pints with the masses in Dalva's main room and feel an urge to seek refuge in a quieter space
with heavier drink, head toward the back through a dark hallway to this new speakeasy-style inner
sanctum.



There lurks a sultry crimson-stained den with leather banquettes. And at the bar's helm is expert cocktail
slinger Todd Smith (Beretta, Bourbon & Branch), hand pouring everything from Pappy Van Winkle 15 to
Mexican Coke to the bourbon-infused Creole Cocktail—basically, a more artisanal selection
than you'll find at the bar out front. And if you bring enough friends, you can spill over into the intimate
lair just upstairs.



Literally.