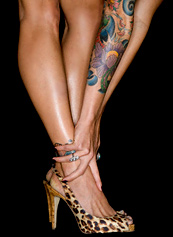 This used to be a rock and roll town.
Elvis made it his own. The Killers came from around here. And in certain rarefied corners (like the Palomino Club), you can still hear "Cherry Pie" every hour on the hour.
But we've got good news: rock's coming back to the Strip. And it's bringing showgirls and whiskey.
Introducing
Smokin' Hot Aces
, your new destination for Stripside rock and roll debauchery, opening December 28 in the Venetian.
Step inside the door and you'll see a detailed re-creation of Poison's tour bus circa '88—or at least, that's the way you imagined it. There's a jukebox pumping out Kiss, and leather VIP booths where you can order up a 48-ounce dry-ice cocktail that's basically a smoke machine in a glass. But first, you have to make it past the six-foot-tall light-up slot machine that greets you as you step inside—though sadly, it's nonfunctional.
As for your evening's headliners, you can't miss them: a troupe of scantily clad go-go dancers performing an interpretive dance to "Pour Some Sugar on Me" on a Crazy Horse-style platform planted in the middle of the room. Stop by on the right night (including New Year's Eve) and you'll find a few rock stars in training on the same stage doing their best impression of the biggest hard rock band in the world.
Otherwise, you'll have to make do with the go-go dancers.