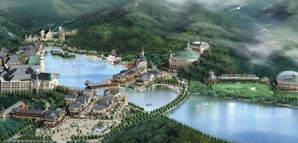 Much as you love the Alps, they tend to get in the way of certain things—like golf courses. And luxury resorts.

Leave it to the Chinese to find the next best thing.

The Interlaken OCT Hotel opened last month as a full-scale Swiss village...just outside of Hong Kong. Set on picturesque (albeit manmade) Lake Interlaken, the streets are lined with Alpine-style "gingerbread houses," as well as a 10,000-square-foot indoor-outdoor spa and championship-level golf course. Though next winter won't bring snow to these mountains, it does promise a waterfall theme park (with the world's largest flume ride) and a cable car to the mountaintop restaurant, with first-class cuisine and views of the Alps—er, subtropical tea plantations.

The town's centerpiece is the Interlaken Hotel, the sprawling five-star castle compound its Swiss counterpart never had. With 299 rooms, four restaurants and a 1,000-seat theater, the hotel has the population potential of China—but, as seen in the towering ceilings, stained-glass windows and "wine altar" of the Gothic Bar, the sense of old Europe. Though every spacious room features an LCD TV and scenic views, it's the 2,700-square-foot Presidential Suite (with private dining and living rooms, lake views and a 24-hour butler) that has the feel and the size of a luxury Alpine chalet.

So: Willkommen to China. Or should we say, huan ying guang lin to Switzerland.