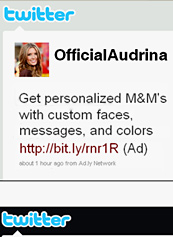 It's that time of year.
The time of year where you could stand to earn some extra cash…without really doing anything.
Nothing except leveraging the power of you, that is—introducing an ingenious game-changer of a web service called
Ad.ly
, now available.
The concept is simple: Ad.ly matches advertisers with premium Twitter addicts, like you (and reality stars), so you get paid for leveraging your formidable base of followers. We repeat—anyone can sign up, even Kim Kardashian. As long as you don't mind one ad popping up in your Twitter daily.
You should know that the ad looks like a tweet but is clearly labeled as an ad, and you approve each one beforehand. Not that you have much to worry about, since the advertisers are of the mainstream variety—you're far more likely to tweet a shout-out for Sony Pictures than the latest E.D. medicine (which might be why folks like Dr. Drew, Audrina Patridge and Stephen Colbert are already doing it).
Sign-up is free, and the system suggests pay rates based on your desirability—though you're free to override that and set your own price. Some might call it the end of Twitter…
You call it scotch.