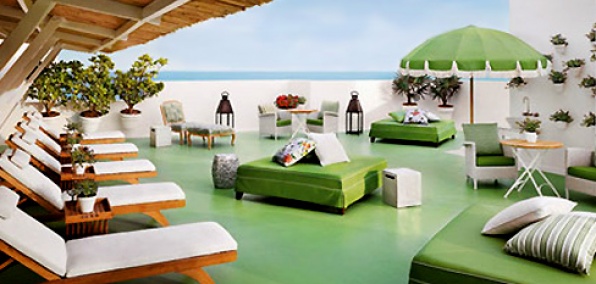 Every once in a while, a place comes along that sounds so magical, we don't believe that it's real.

Good news: today is one of those days.

Because today we're telling you about a new South Beach lounge where the only requirement to get in is that you be 5'10" or taller, female, beautiful, leggy and have the job title "pose for pictures."

And while you may not be allowed inside (after all, you only look like a model), there are certainly ways of basking in its dreaminess…

Say hello to the Model Lounge Miami, the city's first models-only clubhouse, open now at the Delano Hotel.

We know you have many, many questions about this, so let's break this thing down. First, you owe the sandal company Reef a big thank you, because they're the ones who set this up as a place for models to relax in between casting calls, photo shoots and inventing the next Blue Steel.

Second, the lovelies have two places where only female models are allowed: a second-floor lounge (essentially a big hotel room with couches and protein bars) and a poolside cabana. They'll also be given a card that gives them access to the gym, the pool and the beach.

Which means, if you like the idea of hundreds of models milling about a hotel, now might be a good time to book a night at the Delano, so you can make full use of the pool, the gym and the totally random—yet sort of romantic—encounters at the ice machine.

We'd also check out the bars (lobby and pool), where these stunners will be stopping by to pick up their complimentary nonalcoholic beverages.

Complimentary cocktails might be where you come in.