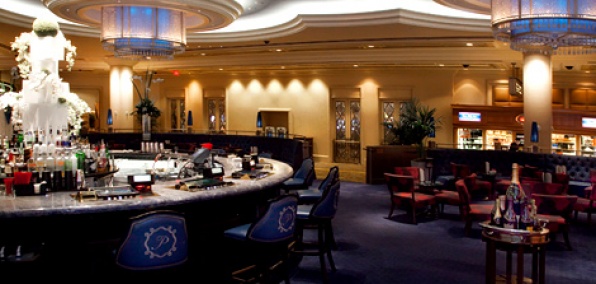 Ladies and gentlemen, it's champagne season.

But before you pick out a magnum of bubbly for your holiday party—that hot tub isn't going to fill itself—you should consider a couple practice rounds. It won't be easy, but trust us, the sacrifice has to be made.

And we happen to know just the place…

Welcome to the Laguna Champagne Bar, a shrine to bubbly (and only bubbly), dropped smack in the middle of the Palazzo floor, open now.

Think of it as your new temple for worshipping champers in all its forms. Plant yourself at a corner banquette under some suitably massive chandeliers, and a sommelier will guide you through the house's rarer offerings (Clos du Mesnil, Comtes de Champagne). If you're not ready to commit—life-changing decisions are never easy—opt for a series of two-ounce pours, small enough to let you sample a dozen bottles or so.

And then, seven hours later, when you stagger back smelling of limousines and untold winnings, they'll have a slightly less refined cocktail flight waiting: "Boom Boom" Champagne Shooters, which consist of three shot glasses filled with a tasty array of liqueurs and…Zima. (We're kidding, it's champagne.) They're served on a plank of wood so you can slam the glasses down before you knock them back, making them foam up like Alka-Seltzer and filling the glass with bubbles.

Good morning?