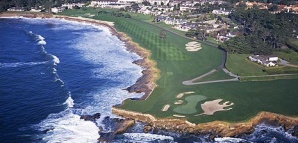 You plan your meals like you plan your dates: With astute attention to detail.
The just-announced
Pebble Beach Food & Wine
event might be the rare opportunity to tackle both at once with some panache. Tickets are now on sale for the four-day tasting affair, which brings some of today's most acclaimed gastronomes to the ocean, and the best packages will vanish more quickly than your last bottle of Pinot.
You may have heard of the participating chefs—endearing upstarts like Alain Passard, Thomas Keller, Charlie Trotter, Todd English, Tom Colicchio (
Craft
) and Walter Manzke (
Bastide
) are among the 35 underdogs finally getting a bit of recognition. (We're pulling for you, guys.) More than 200 wineries will also be present, and the whole crashing-waves-against-stunning-shorelines thing doesn't hurt.
Highlights of the overflowing itinerary are blind tastings, dream-team mash-up meals, cooking demos and a rare-wine auction dinner. Sure, you could purchase tickets a la carte, but you'll likely be more interested in comprehensive packages from the "Magnum" to the "Imperial," which includes VIP seating, access to after-hours parties, sterling accommodations and, oh yes, a thousand bucks to event-sponsored charities.
Sounds like you've thought of everything.