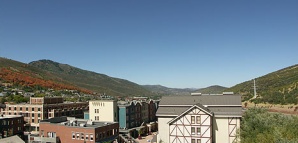 Like corporate takeovers or anniversary gifts, your next vacation shouldn't be planned last-minute. 
With that in mind, you should know that reservation lines opened this week for Park City, Utah's newest destination, the five-star
Sky Lodge
—and the doors unlock December 26, just in time for the Sundance Film Festival.
The "Rocky Mountain Loft"-style building has 22 suites—some of which can be split, so there are actually 33 rentable rooms. You'll be most interested in the three-bedroom townhouses (some with theater dens, so you can screen
your new masterpiece
for Redford) and, of course, the sixth-floor penthouse, with views (like the one in the picture above) from the highest vantage point in the city.
After you overexert yourself on the slopes, there are two therapeutic ways to get over the pain: a rub-down at the Amatsu Spa, or a stiff drink before the soaking grotto in the private Sky Club Lounge. And since nothing says seafood like the mountaintops, you'll find a rotisserie catch of the day at Fin, the fine-dining-est of the four restaurants on the property.
To most, the Sky Lodge will function as any hotel would—but you investing-types can buy into the suites as well, which grants the owner 35 days a year on the property. (Think of it as a luxe condo, but with complimentary car service from the airport, a ski valet and all other hotel services at your disposal.)
In case you want to buy a month's worth of winter.