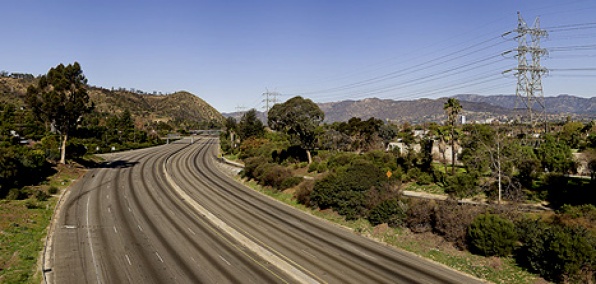 Imagine, if you will, the streets of our fair city.
Now picture them utterly and completely void of tangled autos. No accidents. No sirens. No actresses applying lipstick while running lines behind the wheel.
No traffic whatsoever.
Congratulations. You now share a striking vision with Matt Logue, whose new book of photography called
Empty L.A.
is hitting bookshelves in time for your holiday gifting needs.
The scenario might look unsettling, even vaguely apocalyptic—but you have to admit, it's hard not to picture yourself with the top down on the open road, soaring from Los Feliz to Malibu in about 10 minutes. The photos span from Vine to the freeways, from the Capitol Records building to the ocean—you might see a few parked cars or a beach umbrella, but not a single trace of another person. It's as if everybody just got up and moved to
San Diego.
The photographer has been constructing this utopia for the last four years—and it's self-published, which means it's the kind of gift you can give without fear of seven other duplicates under the tree.
Unless your grandfather got this email too.