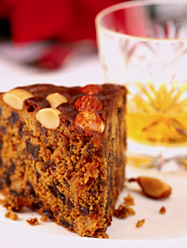 Until now, getting a boozy boost with your Thanksgiving desserts has been restricted to tossing back a shot with each slice of pumpkin pie.
But let's face it, that's a lot of extra work.
Bundling your sweets obsession with your booze obsession are
Whiskey Cakes
, new from Sweet Tooth Boston and available starting this Friday.
Picture it: it's the day after Thanksgiving, and you and your Aunt Betty and Uncle Fred and Craig, the guy from work who didn't have anywhere to go for Thanksgiving, are finishing off the final crumbs of some heated-up turkey sandwiches, mashed potatoes and peas. Grandpa has just finished a story about what life was like during the Korean War, and you're thinking you could use a culinary top-off as well as a little alcohol relief.
Propose a toast, and raise up a whiskey-injected chocolate cake.
It serves 12, so there's enough for everyone, and while we can't promise you'll be feeling much of a kick afterward (after all, your cake tolerance is pretty high), we can tell you that you'll notice more than a hint of Tennessee sour mash with each moist bite.
And because Thanksgiving is all about way too many options, Sweet Tooth is also unveiling an eggnog cheesecake, crowned with a whiskey-laced whipped cream (sorry, Reddi-wip). Or you can ask for rum instead of whiskey for either of the cakes.
We know Grandma's more of a rum person.